If you like Japanese food, enjoy seeing nicely designed packaging or just have time to kill in Ginza, visit Akomeya, a food and household goods store that is chock full of unusual Japanese goodies.
The name, which is a rather peculiar combination of the Japanese word for rice store – komeya – and the English pronoun "a," points to its distinctive eclecticism. Akomeya stocks a mesmerising variety of Japanese foodstuffs from all over the country as well as tableware, socks, zabuton cushions, even karuta playing cards.
But curiously, I was informed that the "a" also stands for "not," in the sense that Akomeya is not just a rice store. I doubt that anyone would pick that up from just the name, but everyone who visits the store will certainly get the message.
There is a lot of rice, to be sure. There is even a rice bar where you can choose from a wide range of brands and request the level of grinding you prefer, such as unmilled gennmai (brown rice) or half-milled and so on.
The ground floor is where most of the food is displayed. Akomeya carries mostly products that are not usually found at supermarkets or even department stores, including many of its own private brand products.
There are rows and rows of snacks, canned goods, intriguing condiments, miso, sauces, salad dressings, pickled or salted food and sweets.
Among the more unusual snacks I found on a recent visit were ramen with a tomato-flavored soup and rice crackers made to taste like ham cutlet.
I spent some time inspecting bottles of blow fish in different types of oil, including plain oil, basil oil and green pepper oil.
Elsewhere, a pretty bottle of milky oyster sauce from Kesennuma caught my attention. I have no idea what I would use milky oyster sauce for and the bottle, lovely as it was, gave few hints. The hand-written explanatory sign placed in front of the bottles gave a price of Y900 and said it was a multi-purpose seasoning.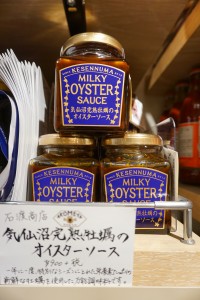 Akomeya carries many unusual things that require a bit of an adventurous spirit to actually try.
But I have used their miso blend and can report that it is mild and flavorful.
The salad dressing made with Hyuganaka citrus fruit, is slightly sweet, not too pungent and absolutely delicious.
Akomeya also has a causal eatery where they serve lunch and light meals using ingredients from the store, as well as a range of sakes and wines. The rice served is freshly milled just next door.
I sat down recently to a set lunch consisting of eight little servings of vegetables, fish and a bit of pork, a bowl of rice from Yamagata and miso soup with seaweed, using the house blend of miso.
There was a small serving of bamboo shoots in a kinome (young leaves of the Japanese prickly ash) and miso sauce, a shrimp dumpling and bean concoction in a sweet and sour sauce, tai (sea bream) sashimi in a sesame sauce and spring vegetable fritters.